Solve the Riddle of SKU Proliferation
Effective SKU management speeds deliveries and controls costs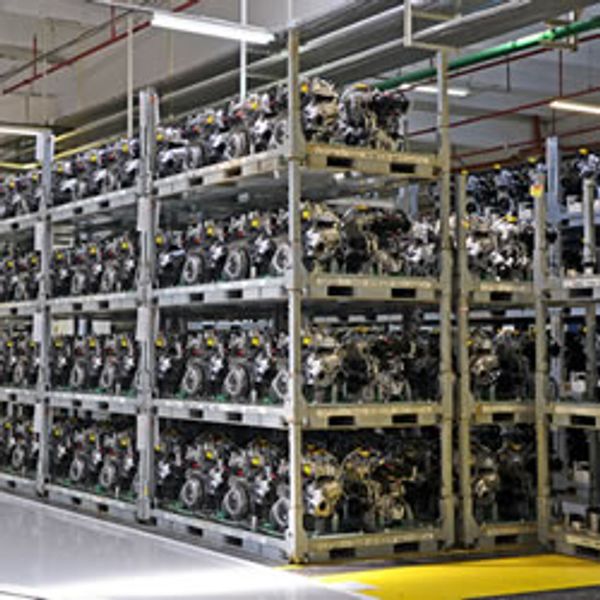 With so many new parts entering the automotive space each year, the number of stock keeping units (SKU) continues to compound. By properly placing and managing SKUs within the walls of a warehouse, manufacturers and suppliers can maximize the number of picks an associate can accommodate, increase agility within the supply chain and decrease inventory cost.
---
Yet each new SKU brings increased complexity and a risk for errors. SKU proliferation also creates transportation challenges, because businesses are unable to draw on history to predict a new part's movement.
To help manufacturers and suppliers speed deliveries, manage inventories and control costs, Penske Logistics takes a multipronged approach to SKU management. Penske's engineers share their customers' main goal – to move parts from receipt to final pick with the least amount of labor possible. They use their knowledge to assess warehouse capacity and determine whether parts will be picked by the case or individually.
Match Slotting Patterns With SKU Velocity
Within the warehouse, velocity matters. That's why Penske's engineers constantly review SKU velocity, then re-engineer the warehouse to match demand. This often means placing high-velocity pick items as close to the door and as tight as possible to increase efficiency.
Slotting patterns often change as demand shifts, such as during peak production periods of certain makes and models, during promotional periods, or during surges in demand. To stay ahead, a trusted partner must communicate with its customers so it understands when and how SKUs change.
With its ClearChain® technology suite, Penske provides detailed information on each part as it moves through the supply chain, including inbound deliveries. This keeps inventory in place as needed.
"We work with our customers to manage SKUs, and it is one of the most difficult tasks that many manufacturers have."
—Dave Bushee, vice president of logistics technology for Penske Logistics.
Get Ahead of SKU Changes
When vehicle makes and models change, so do SKUs. The proliferation of SKUs and the rapid change of pace means today's warehouses must be nimble. SKU changes also impact capacity within the warehouse's four walls, and locations can run out of room as SKU counts increase.
Penske Logistics works closely with its customers to understand when and how SKUs will change, and then determine how to best manage them. This increased level of visibility and planning can ensure SKUs get slotted to maximize efficiency.
Close monitoring of SKUs also helps in the event of a recall, because warehouse managers will know the exact location of recalled items and can pull them before they reach the transportation network.
"We work with our customers to ensure we can handle the volume and to make sure parts gets where they need to go."
—Dave Bushee, vice president of logistics technology for Penske Logistics.
Meet Fulfillment Requirements
Penske's ClearChain technology provides a high-level and detailed view of every movement within the supply chain. This enhances Penske's ability to manage SKUs and ensures each item is slotted for maximum efficiency. Production lines rely on the seamless flow of goods, and even minutes count. Penske Logistics helps shippers meet fulfillment requirements while ensuring load accuracy and on-time delivery.