How the Automotive Supply Chain Can Benefit from Returnable Containers
Leverage real-time data to avoid shortages and keep production lines moving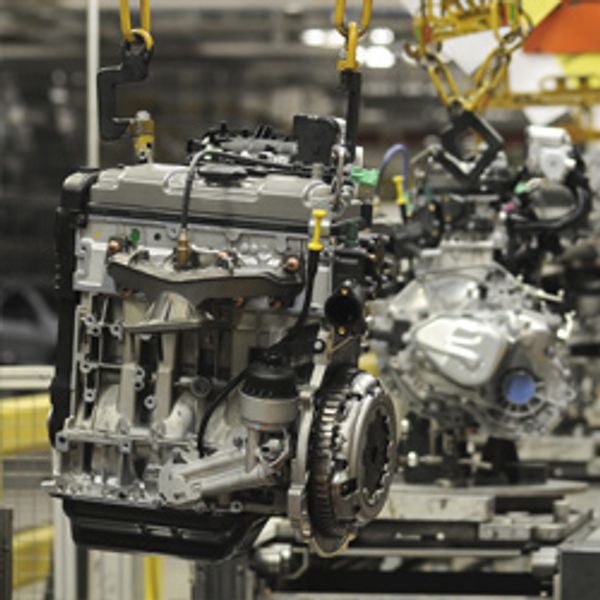 Companies strive to get more products on a trailer and reusable containers offer that capability. They create significant cost savings when compared to throwaway packaging, and they eliminate variances in packaging. That, in turn, standardizes pack sizes, drives consistency and increases efficiency.
---
Penske Logistics has perfected the use of reusable containers within the automotive industry. By working closely with our customers, Penske helps to determine the proper amount of reusable containers needed. Then, through big data analysis, Penske identifies peak times, volume files, year-over-year numbers or anomalies. This expertise balances the flow of returnable containers and ensures production keeps moving.
Make Reusable Containers More Effective
The reusable container supply chain includes four key areas:
Containers in use for finished goods being produced
Containers holding products that are in use at the customer's location
Empty containers being sorted and processed for return
Containers in the return loop
Any irregularities within those four areas can disrupt the entire supply chain. So too can uneven or unpredictable deliveries. For reusable containers to be effective, they must be tracked with strict parameters that ensure a parallel inbound and outbound flow. If containers aren't in place when needed, it can slow a production line, increase cost and hurt productivity.
Start with the End in Mind
Penske Logistics starts the process by understanding a customers' crux – the set of inventory cases needed to make a day's worth of production. So, if a factory needs 11,000 cases for a day's crux, has 7,000 cases now and another 2,000 coming, then they'll need 2,000 more.
Once Penske knows the crux and can identify where containers are within the supply chain, they can help ensure customers have the amount of containers they need when and where they need them. This eliminates container shortage and overflow.
Benefit from Innovative Tracking Technology
To track reusable containers, Penske scans outbound deliveries, keys in pickup quantities and monitors inventory levels within a warehouse. Drivers can use their smartphones to enter the number of reusable containers that have been picked up. Penske's technology transmits the information directly to the customer and sends a report every two hours. That real-time information is tied to the trailer number, so customers know the quantity of available containers and their exact location.
If data shows a low inventory of reusable containers, Penske sends drivers out on a sweep to pick up additional containers. Tracking software allows drivers to know exactly where to go to pick up the proper quantity.
This frees companies from the burden of storing extra containers for just-in-case scenarios. In fact, with one client, Penske's process management freed up six trailers full of reusable containers.
Shippers want a continuous flow of reusable containers, but they don't want to be overflowing with them. Penske Logistics gives customers the visibility they need to become more efficient and more successful.