Remove Labor-Intensive Tasks
Streamline operations with automotive manufacturing support services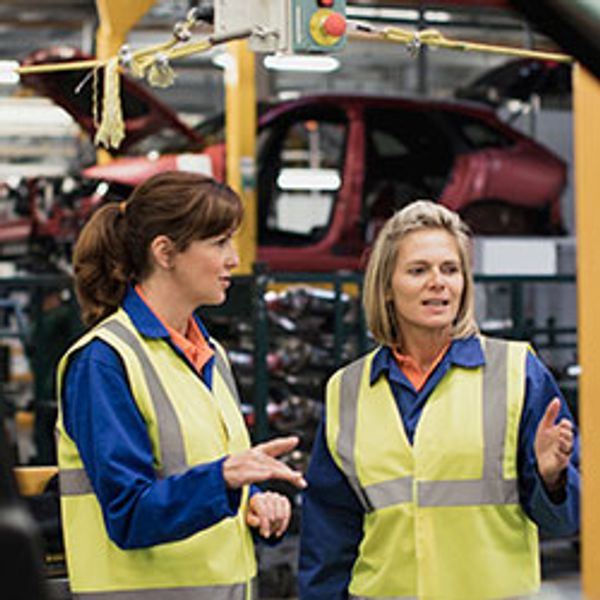 The fast-paced automotive manufacturing process demands that every moving part within a production facility must come together at the right time and place to maximize output. Additional work on the front end helps that manufacturing process run smoother.
---
To help automakers remove labor-intensive tasks from the production line, Penske Logistics offers numerous support services – including sub-assembly, assembly and kitting. Such services can help simplify processes, reduce errors, streamline operations and increase an automotive manufacturer's just-in-time assembly.
Warehousing Technology Enhances Inventory Accuracy
Since manufacturing space is at a premium, Penske can provide large, bulk part warehousing for manufacturing facilities. Within the warehouse, Penske's warehouse management system (WMS) provides day-to-day operational efficiency through electronic data interchange (EDI) links with customer enterprise resource management (ERP) systems. This creates an orderly flow of information back into the customer's systems, providing them access to timely status updates, improving accuracy and efficiency in:
Receiving
Put-away
Inventory management
Order management
Kitting
Labeling
Product quality inspection
Picking
Packing
Replenishment
Cycle/physical count
Reports
Use Sequencing to Facilitate Just-In-Time Deliveries
Penske's management of parts sequencing networks ensures parts and components will arrive just in time and in the proper order, creating an orderly build sequence at the manufacturing facility. When properly managed, just-in-time and just-in-sequence deliveries allow manufacturers to reduce the amount of buffer inventory, free up capital, and reduce the risk for obsolete inventory.
Penske Logistics also manages cross-docks to facilitate the movement and delivery of parts, and provides on-site brokerage capabilities and logistics planning.
"If a sequence is wrong, the downtime could be significant. We have significant checks and balances in place to ensure each item is picked correctly"
— Don Klug, vice president of sales, distribution center management, Penske Logistics
Use Kitting to Enhance Line-Side Operation
With its kitting processes, Penske Logistics places specific parts from bulk containers into the right combination within smaller containers. This creates easy line-side operation at the manufacturing facility. Depending on the size of the part or components and the customers' specifications, kits can be placed in a bag, box, reusable container or shrink wrapped. In addition, kits can be packaged and placed in sequence for just-in-time delivery to manufacturing locations.
Use Replenishing to Keep Your Stock Current
Through its warehousing services, transportation management, brokerage services and logistics planning, Penske can manage the replenishment process. This helps keep the right parts in stock within the warehouse. Penske's ClearChain® technology suite provides detailed information on inventory, order status and at-risk situations. ClearChain also provides crisis management if needed parts hit unexpected delays.
In addition, Penske operates Kanban replenishment – a self-regulating pull system – for parts, which leads to shorter lead times and reduced inventory. Kanban systems typically benefit items with relatively constant demand and medium-to-high production volume.