Add Horsepower to Your Data
Use connectivity to improve automotive supply chain decision-making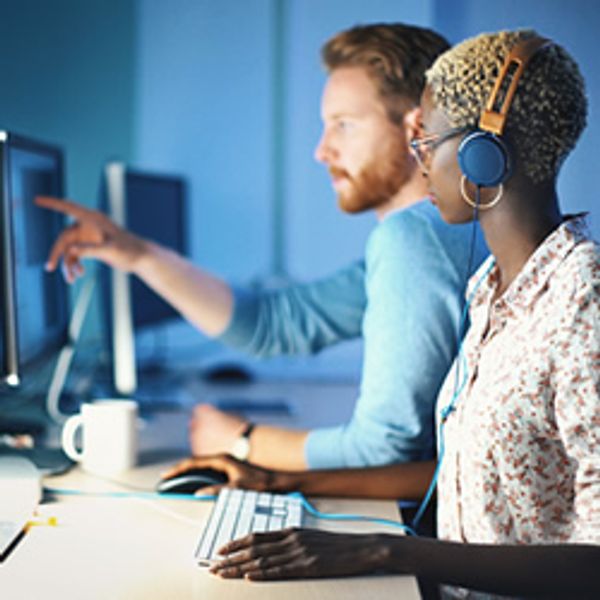 Businesses in today's rapidly transforming automotive industry use numerous technologies to collect data. But when those technologies don't communicate, all that data becomes useless.
---
That's why connectivity is the new differentiator. When multiple parties within the automotive supply chain can connect with real-time data, businesses gain the power to identify and minimize potential problems, improve customer service and rev up their decision-making capabilities.
Connectivity creates new opportunities to collaborate and communicate. That allows 3PLs and shippers to more accurately plan and execute the movement of goods, leading to more informed decision-making and providing a true competitive advantage.
Penske's ClearChain® technology suite – as well as the people and processes behind it – allow users to connect with the touch of a button. That connectivity creates better service and results.
"We use the detailed data we get to help drive improvement for the customer."
—Andy Moses, senior vice president of sales and solutions, Penske Logistics
Coordinate Inbound and Outbound Shipment Data
All ClearChain applications within the system are designed to communicate with each other. The apps also integrate with systems outside of the Penske network. This enables instant communication that improves visibility and allows transportation providers and shippers to make faster, better decisions, leading to reduced costs and improved customer service.
Within minutes, ClearChain technology can track every product for a shipper, providing prompt status updates and insight. The technology also provides a high-level view of the entire network by connecting transportation providers with the warehouse.
"Pulling together the network of inbound information allows us to organize it and ensure its integrity so there is a valuable data set to work with."
—Andy Moses, senior vice president of sales and solutions, Penske Logistics
Improve the Flow of Goods
Because transportation management systems (TMS) and warehouse management systems (WMS) communicate with each other through ClearChain, businesses can obtain even greater visibility, improve the flow of goods and increase efficiency.
For example, data exchange between the WMS and TMS can uncover a better way to accurately build loads. The actual mixed-item pallet configurations from the WMS can be used by the TMS to more accurately fill the trailer, thereby increasing utilization. The TMS can select the carrier and service level prior to processing a load. This allows warehouse operations to be optimized through either picking directly into the pre-labeled shipping container or directing goods to the appropriate distribution center destination for shipping.
"Good inventory visibility is crucial. Warehouse inventory has to be able to interface with the production side of the business, and it has to be able to connect within the supply chain to know what is in the warehouse, what is on a truck, or what is stored in a trailer."
—Dave Bushee, vice president of logistics technology, Penske Logistics
Create Pinpoint Accuracy
ClearChain's real-time visibility allows users to drive accuracy. Penske provides several technology solutions that allow its customers to connect quickly and easily with supply chain parties, such as inbound suppliers and those making the final-mile deliveries. Within manufacturing, information enables users to sync deliveries with their production schedules.
By increasing connectivity and allowing data to flow between applications, ClearChain creates a series of checks and balances that allows Penske associates and their customers to drive accuracy. What's more, the information is presented in a timely manner, which allows customers to quickly identify and act when something is incorrect. This high level of connectivity and visibility enable greater optimization, which drives value.